Summer is in full swing and vacation time is perfect for catching up on some well-deserved sleep. When traveling, we recommend taking your CPAP machine with you so you can get the best rest during your trip. We know that some patients are hesitant to bring their CPAP because it adds one more bag for them to carry. This is perfectly understandable since the bag can be bulky and the machine itself can weigh a bit. Fortunately, travel CPAP machines were created to solve this problem. It can reduce the luggage without sacrificing your therapy!
ResMed has recently released their own travel CPAP called the AirMini, and it certainly lives up to its name.
The AirMini is perfect for the frequent traveler. It's very light and compact, and provides the same therapy options as a regular CPAP! See below for more information:
It weighs 0.66lbs (300 grams)
30

decibels

whereas the S10 is 28 decibels
Dimensions: 5.4 x 3.3 x 2.0 inches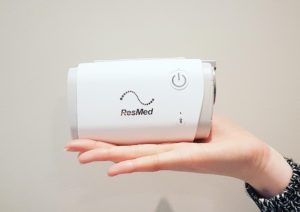 (It fits in your hand! )
It has all 3 therapy modes built in – CPAP, AUTO, AUTO For Her (4-20CMH20 range of pressures)
Air Mini has all the comfort features you are used to in a CPAP – EPR, RAMP, Response
works specifically with a P10, N20 and F20 because of the new ActiveAir vent and built in HME
AirMini has built in Bluetooth and works with the AirMini APP (available on the APP store and Google Play)

that is how you will access the patient menu
allows access to a range of adjustable comfort settings and your nightly score that tells you how well you slept.
Traveling with your CPAP has never looked so easy! For more information about the AirMini, contact us and we'd be happy to help.